On the 17th March 2020, the Triptych at the Old Red Lion was the final performance given on the London stage.
Simon Stephens moved his Q&A forward by a night to leave us with a message of "Never despair. Never despair. Never despair."
And in the weeks, and many months that followed, the mood in our circle veered wildly – this began as a much needed rest for creatives who, more or less without exception, worked multiple jobs to sustain their vocation. Who served pizza and flipped burgers and served coffee in order to rehearse a few hours a week and perform for a handful of nights a year.
From actors in the West End to theatre-makers who were about to do their first or second show, the mood was one of first, they deserve a moment to catch a breath in an industry and society that demands total, all consuming dedication. And that's massively draining. And so many people reported that they were enjoying a beat of rest, although almost all were trepadacious about what the theatre might hold.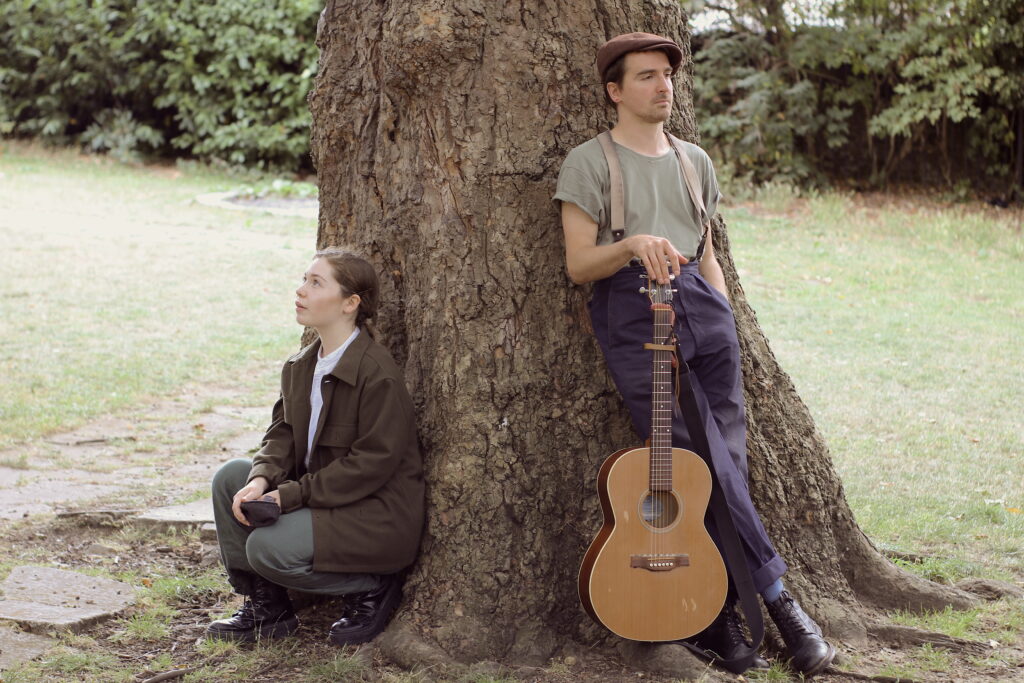 And then came the exodus of artists who couldn't afford rent with no work to go to, and no particular hope of any to come. Talented creatives who left London to go back to family homes, or somewhere less expensive.
So the mood shifted from hope, defiance, to an acceptance and perhaps a downward spiral seem to set in.
So when the Barn said they were interested in Private Peaceful, it seemed a little easier to never despair.
We are unimaginably lucky to be staging a play in these ridiculous times. It has been little short of a joy. And Emily Costello and James Demaine are immensely generous actors with huge reserves of passion, and BoxLess are massively grateful to them. It has been, in all senses, a privilege.
Creating a play where the actors can never touch, and are at least a meter apart at all times was an interesting one. But if anything it was a question of dialling up the style, and the symbolism, and hopefully it won't occur to the audience that the Peaceful brothers, who share a bond that cannot be broken by war, have never touched.
The final performance in London, the last night of our Triptych with Bag of Beard and Grindstone, as part of the Old Red Lion's 'Where Are We Now?' Season, were three stories of hope, defiance of the odds, how human beings survive in impossible circumstances.
This was part of a season with stories of what family means to us now, a journey of nationhood and self discovery, female friendship in a society overly defined by the masculine, and a play about a virus that wipes out half of humanity – that went unperformed due to a real deadly virus.
So we endeavoured to take stock of society in 'Where Are We Now?' and were forced to close, ending with one last performance of a Triptych that said that while things may feel impossible, there might be a glimmer of hope to hold on to, and a way to move on.
And so we resume live theatre with a warm, human tragedy because, without spoilers, this is what Private Peaceful is. It's charming. It's for all the family. It has live music and in our staging it has moments of humour. But it is a tragedy and more than that, it is about how a government fails its citizens, and fails its young people.
So without planning, we ended with a story of hope, and we begin again with an indictment of an uncaring, faceless, hypocritical government. You will only engage with them through characters that, we hope, will charm you. But by the end, it is the faceless rulers who are to blame for it the horrors they will have to endure.
Even as indoor theatre takes its first tentative steps towards reopening, even in the smallest way, although for many it still isn't viable, financially or artistically, but I feel that the restrictions, the zeitgeist, are going to push theatre in a more experimental direction. We're going to be forced to consider new horizons and that opens up huge new avenues for storytelling.
Private Peaceful came about as an idea to promenade in a London park, and has ended up as a new, non contact, outdoor staging. Blindness (adapted by Simon Stephens) at the Donmar Warehouse, takes the audience on a stunning aural journey, and makes the revelation of what lies outside the walls of the theatre the central dramatic moment. And then the audience stumbles through the streets of a pandemic stricken London, with face masks, and closed streets and cautious glances.
It is truly immersive theatre. You carry the world of the play home with you. Your life is the continued story of the play you heard.
Live experiences are beginning to return, telling stories in a new way. And that makes it easier to never despair.