Today we had the wonderful Aaron Price and Rubie Ozanne working on the 80's section.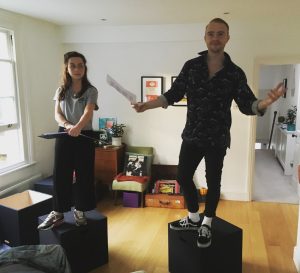 As they are reprising 'The Boy' and 'The Girl' was when they last performed the parts all the way back in September 2016, it was a real test to see if they could remember the words…. Luckily it went swimmingly, bar a fit of giggles from everyone in the room (it was a long day!) and we managed to delve deeper into the characters and explore different choices from when we did it last time.
Its very exciting and the guys are really bringing the characters to life!
TO BUY TICKETS: www.theatren16.co.uk/loop